Do you have a yard project you're wanting to tackle? Let the professionals do it!
Decatur Lawn Care Company can take care of a wide variety of lawn clean up and restoration jobs.  Porter Deal and his team handle debris removal, drainage repair, and more with their full landscaping and clean up services.
Check out these recent before and after pictures from some of our early Spring 2021 jobs!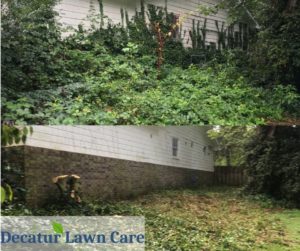 Exceptional Residential Landscape Maintenance
Porter Deal is a Decatur resident and the proprietor of Decatur Lawn Care, a locally owned and operated, full service landscape maintenance company.
With 20 years of experience, Porter and his team offer a variety of landscape maintenance service options to meet all your year round lawn care needs. This includes but is not limited to Lawn Mowing, Spring Clean Up Projects, and Pine Straw & Mulch Delivery & Installation.
Decatur Lawn Care proudly services to homes in the following areas:
Decatur, GA; Avondale Estates, GA; Toco Hills, GA; Oakhurst, GA; Druid Hills, GA; Lake Claire, GA; Agnes Scott, GA; Emory, GA.
Send us a message or call Porter Deal at 770-322-4230 to learn more or to book an appointment!
Ready to Book Your Lawn Care Service?